Instant Payments Adoption Maturity Self Assessment Tool can help FIs Benchmark progress against the Maturity Curve
Expected Outcome from the Tool
---
Instructions on use:
---
FIs may use this tool to assess their readiness to adopt Instant Payments. This tool helps them determine where they are in their current journey of adopting Instant Payments and identify next steps needed to gain further momentum.

Evaluate Business, Operational and Technology readiness dimensions by clicking on the spreadsheet below
In the individual readiness tables for each dimension (tab 2, 3 and 4), select the status for the Readiness activities from the drop-down list based on your current completion status
Use the graph on tab 5 to benchmark the scores against the maturity model to determine organization's position on the maturity curve and readiness to adopt Instant Payments
Instant Payments Adoption Maturity is Measured Across Three Readiness Dimensions
---
The score obtained against these three readiness dimensions will be used to determine the stage at which an FI is on the maturity curve and identify the steps to move up the curve.
Based on the Scores across Business, Operational and Technology Readiness Dimensions, Financial Institutions can determine their Position on the Maturity Curve
---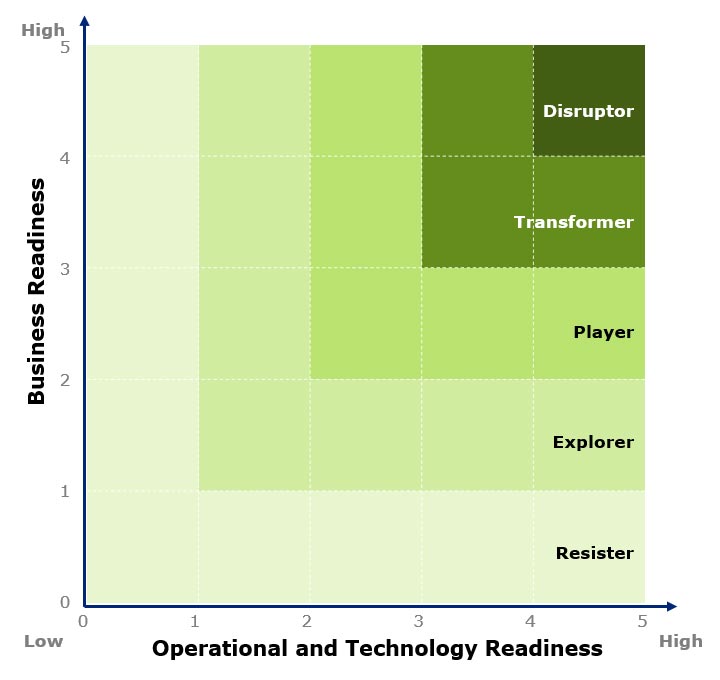 Characteristics
---
Disruptor
FIs for whom Instant Payments solution is a strategic need and hence have developed the capability to support multiple use cases, e.g., for bill payment, disbursements, supplier payments, etc. based on their retail/corporate customer needs.
NEXT STEPS:
Identify additional growth opportunity areas in Instant Payments and strive for innovation to further the adoption of Instant Payments in various industries
Leverage Instant Payments to build and offer value-added services to the customers
---
Transformer
FIs that have understood the strategic need for Instant Payments solution to keep pace with third party players offering Instant Payments services or to address rapidly changing customer needs.
NEXT STEPS:
Define the roadmap for commercialization and launch Instant Payments for the selected use case to a wider customer base, and introduce new Instant Payments services to your relationship managers, corporate clients and retail banking customers
Build on the momentum by scaling up to include more use cases or expanding to different customer segments and conduct supplementary pilots with additional corporate partners
---
Player
FIs that are beginning to recognize the importance of offering Instant Payments services and have started building the required operational and technological capabilities.
NEXT STEPS:
Educate your business/corporate partner on benefits of Instant Payments, work with them to identify the most impactful use case and help them chart out a roadmap to accelerate effort towards adopting Instant Payments
Assist your corporate partner in building a business case to seek buy in from with their organization. Help them chart out the implementation plan and sign up for a small-scale pilot
---
Explorer
FIs that have either not fully recognized the importance of Instant Payments for their retail/corporate customers yet or have limited capability/resources/funds or all.
NEXT STEPS:
Conduct focus group discussions with your customers to understand their concerns with traditional payment methods and need for Instant Payments
Build a strategic business case to gain alignment from relevant stakeholders in your organization and fulfil funding requirements to build the required technical and operational capabilities
Engage your technical teams early to traverse the learning curve with message specs and coding efforts. Explore potential TPS models / partners
---
Resister
FIs that either don't have the need (i.e., Instant Payments solution not requested by customers or no competitive pressure from third party players offering payments services to their customers) or the capability/resources to adopt Faster Payment solutions or both.
NEXT STEPS:
Educate your internal stakeholders on the benefits of Instant Payments solutions for your customers
Review your business and technical practices and procedures and consider the appropriate changes and resources needed to comply with the network rules and technical specifications